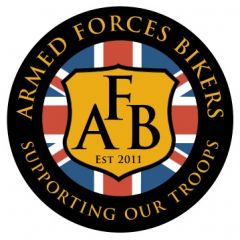 UK Registered Charity Number 1147967
Scottish Charity Number SC043586
The AFB is authorised to collect funds, operate and organise events in Northern Ireland under section 167 of the Charities Act (NI) 2008.
AFB Charity Riders the only registered motorcyclists that support our Armed Forces, Veterans and their Families.
Welcome to the Armed Forces Bikers website. We are open to all three Arms of HM Forces, so whether serving or 'ex-' of the Army, Navy or Royal Air Force and you ride a motorcycle, you can register and become a forum member. If you support our aims and want to commit to them you will be offered patched membership of the Armed Forces Bikers Charity Riders.
Armed Forces Bikers are charity riders and ride free to fulfil our charity aims:
Supporting veterans who are finding it difficult to make their way in civilian life

To organise events, meets and rides in order to display our patches and raise awareness of our Armed Forces and the challenging missions they undertake world wide
We are not associated in any way to any other motorcycle club or organisation. Your registration to the forum is free. To become a patched member speak to one of our AFB Area Reps who will answer any questions you may have.
Supporters of HM Forces & their families are also welcome.
Charity Objects
1. To assist former serving members of the armed forces who are in charitable need as a result of injury or other harmful experience suffered during their service to resettle and rehabilitate into civilian life.
2. To relieve the needs of former members of the armed forces and their families.
Public Benefit
Supporting veterans who are finding it difficult to make their way in civilian life regardless of their financial circumstances or geographical location. We are an internet based veteran's network that seeks to establish contact with as many serving and ex-forces personnel as possible. We aim to give our members and supporters purpose through common friendship and a support mechanism with the purpose of helping others to help themselves. Although we are Charity Riders we do not exclude anyone in need of our services. We have successfully located and integrated many troubled ex-service personnel who are either mentally or physically scarred due to operational service. We encourage them to join us at events and give them a sense of purpose through a common bond and fund raising activities.
We offer a support mechanism through an internet based forum to organise direct support to ex-forces personnel and their families e.g. transporting members to organised meets who have no method or financial means to otherwise get involved. As well as direct help through financial support to individuals, we supply inexpensive ICT equipment to allow them to keep in touch through texting, an Internet forum and Skype video calls. This also includes basic IT training tailored to each individual's needs. We make grants to help ex-forces personnel and their families settle into rented housing through paying for bonds and necessary domestic equipment required for basic living needs. If veterans are keen motorcyclists who can no longer ride a standard motorcycle, we will help fund modifications to their motorcycle or help convert it into a trike through our partnership with the Association for Bikers with a Disability (NABD). We also seek out small, less well known, service related charities or projects and support them with funds.
PLEASE NOTE - All AFB members can be recognised by the wearing of a front or side-patch which states they are Armed Forces Bikers and will at no time display a back patch or supports patches whilst wearing AFB patches.